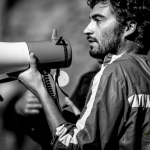 In Serbia, al Pancevo Film Festival, ci sarà dal 3 al 7 settembre la prima retrospettiva dedicata al regista tarantino Giacomo Abbruzzese. Il regista presenterà i suoi cortometraggi da Droga Party (2006), Passing (2007), Archipel (2010), fino a Fireworks (2011). Sarà inoltre presentato il suo ultimo film, il documentario This is the way (2014), girato in Olanda nel 2013, al quale ha collaborato alle musiche un altro tarantino, il musicista Francesco Giannico. L'anteprima italiana è prevista per fine 2014.

Joy, la protagonista di "This is the way", ha due madri lesbiche e due padri gay. Ha un ragazzo, Timo, di origini nigeriane, e una ragazza, Bibi, di origini portoghesi. E' nata diciotto anni fa da un'inseminazione passata per un barattolo di burro di arachidi.
Un documentario su una ragazza che viene dal futuro, girato con un telefono cellulare.